Talked your ear off about line rendering last time uh? Maybe you need some lighter reading? Fret not, for lines is not the only subject in expressive rendering, we also have shading!
In and of itself, shading is a big subject. It also has a lot of overlap with PBR, as it tends to be grounded in reality. But, as with all stylized rendering subjects, the difficulty is in how to use it to achieve a quality look.
In this article, instead of going into a deep multiple article dive, I'm going to take a more focused look at one of the very basic methods you may have already seen: toon shading!
While it is a basic building block, there's still a lot to learn, and a lot to expand on! I'll cover both the basics, limits of its use, and going beyond what's usually done with it!
Basics: What is toon shading?
The base idea of the method of toon shading is to have better control over how an object will appear in light or shadow. There are several ways to implement it, so I'll focus on the most straightforward one: toon ramps.
Toon ramps are one dimensional textures that match a value of light to a color. In order to do that, you'll need a parameter to represent that "light value", which is what I call the lighting coefficient. We'll see later on how to handle it, but for now we'll stick with the n.l. :If you don't know what that is or wish for a refresher, click here.
This is a bit generic, so let's illustrate a bit by building some ramps. Let's start with a neutral one and a constant one to ensure our algorithm works properly. We can make them directly in GIMP or another image editor, as 256x1 images.
Let's think for a bit. A neutral ramp would need to have increasing values for each pixel, so the 2nd pixel's value is (2,2,2), the third would be (3,3,3), and so on. It's a simple linear gradient. On the other hand, the constant needs the same value everywhere. So let's do just that and see the results: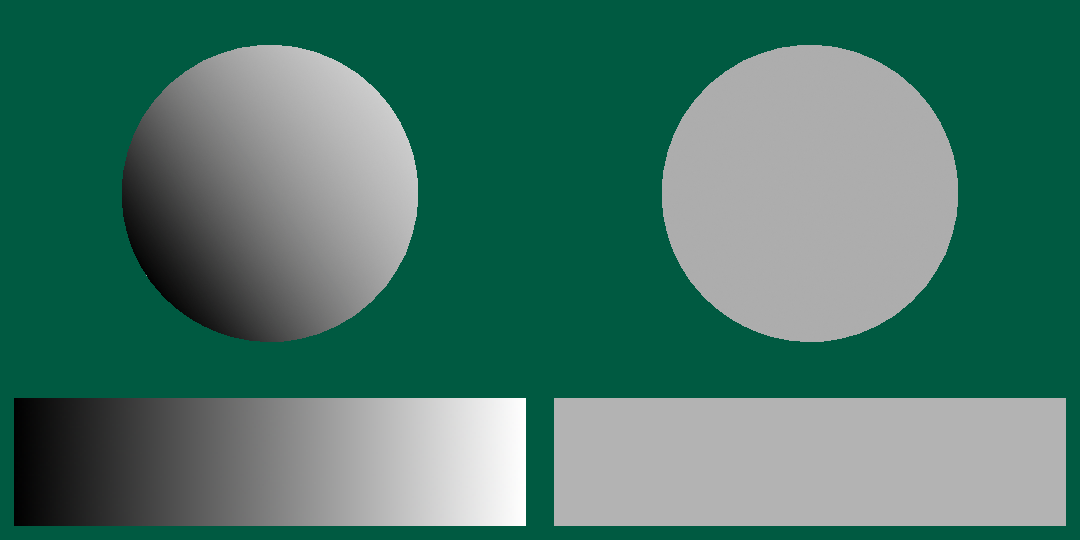 Neutral ramp and constant ramp. You can extract them manually from the pictures, they have been magnified x2 exactly.
Let's expand a bit more, and build a ramp to simulate two-tone shading. In order to build it, we need to decide where the threshold is, so to simplify I put it in the exact middle.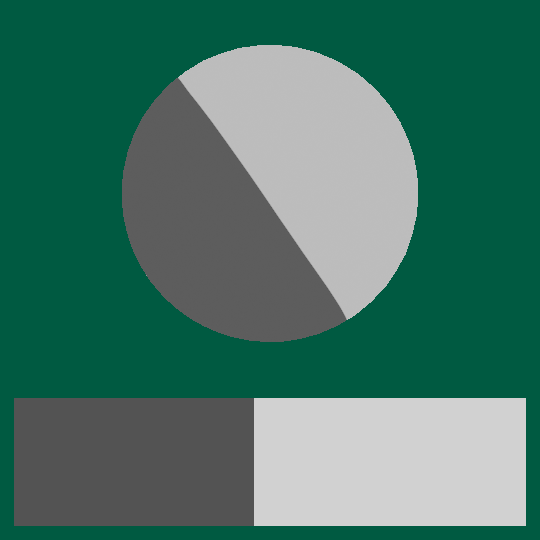 Now it's starting to look like something!
Let's put some colour into it! I'll use a light yellow for the lit part, and darker blue for the shaded part. It's as simple as putting those colours in the ramp.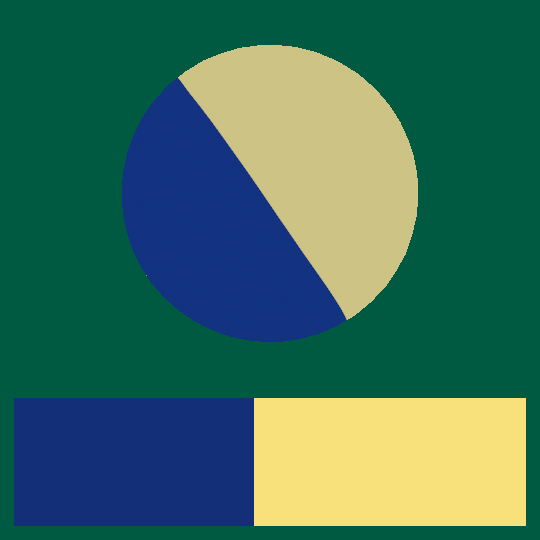 wym i gotta find a caption for each one of these?
Let's do another one to finish, by adding a gradient to each part, and by making the boundary a bit smoother by blurring it.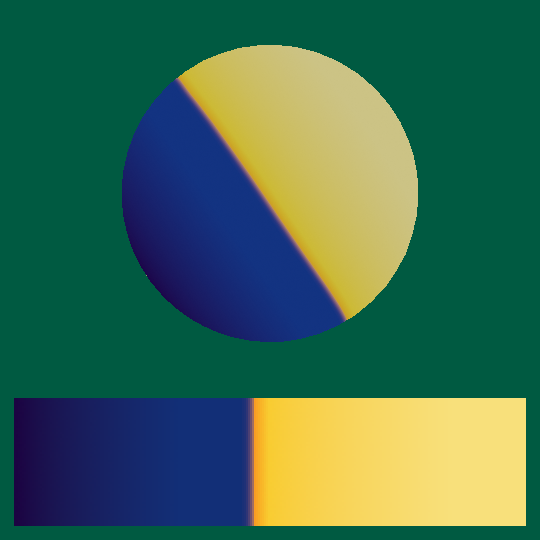 You can do more complex behavior with toon ramps thanks to the increased control.
Hopefully this helped you understand that a bit better how it works! We could continue for a long while, it would be like trying to illustrate how colours can be used. Some other forms of toon ramps can be used, for instance by combining it with an albedo to not have to make a new one per object. This is also valid, and we'll see those a bit later! Some can also be :made using math (click to expand)
:x n dot l
The n.l (pronounced "n-dot-l") is a major component of the rendering equation. It's a mathematical term representing how much the surface faces the light. Here's a quick breakdown:
n is the normal, which is a vector perpendicular to the surface. This represents the direction the surface is looking at. A simple example would be a flat table: the top's normal is straight up.
l is the direction to the light source. It can either be fixed for all (in case of sunlight) or changing for each point (like when lit by a lightbulb).
Finally, the '.' is the dot product. To simplify, since our vectors are normalized in this case, it computes how much the two vectors look in the same direction: 1 is exact same direction, 0 is perpendicular, and -1 is exact opposite directions.
One aspect to keep in mind, is that while the n.l is always between -1 and 1, most rendering applications will cut the -1 to 0 part since they are by definition unlit. In stylized rendering, we might want to keep that negative part, but it might affect our light accumulation step, as we'll see later in the article.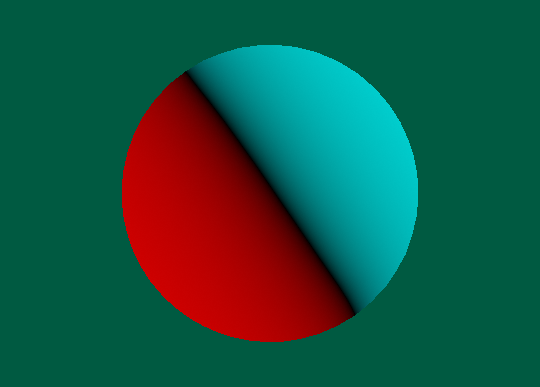 Simple example of n.l over a sphere, lit by a light coming from the right. The positive part is in cyan, while the negative is in red.
:x Math Toon Ramps
This part is a bit more theoretical, but you clicked on the link with 'math' in the title so you kinda had it coming.
A more precise definition of a toon ramp would be an injective function over the real range [0, 1]. Therefore, you could use any mathematical function instead of a texture. You can either map each color to a specific function, or the global luminance and then multiply it by an albedo (as we'll see later).
There are a lot of mathematical functions you may use here, so you can probably find the funky polynomial or Bézier curve of your dreams. Instinctively, I would look towards a sigmoid function, as it has a nice curve that allows us to go from shaded to lit quickly, while also having a nice ease of control with its inflection point being at 0.
The potential advantages of this method is potential speed if your function is quick enough, and additional resolution since you can do it at any scale. A disadvantage can be the difficulty of control, again depending on your function and interface. Of course, you may always bake the function into a texture to go back to the regular toon ramp performance.