The technique
So hey, after all that, here's the concept:
Use UV as a way to assign an ID instead of using a texture, then grab your data from it.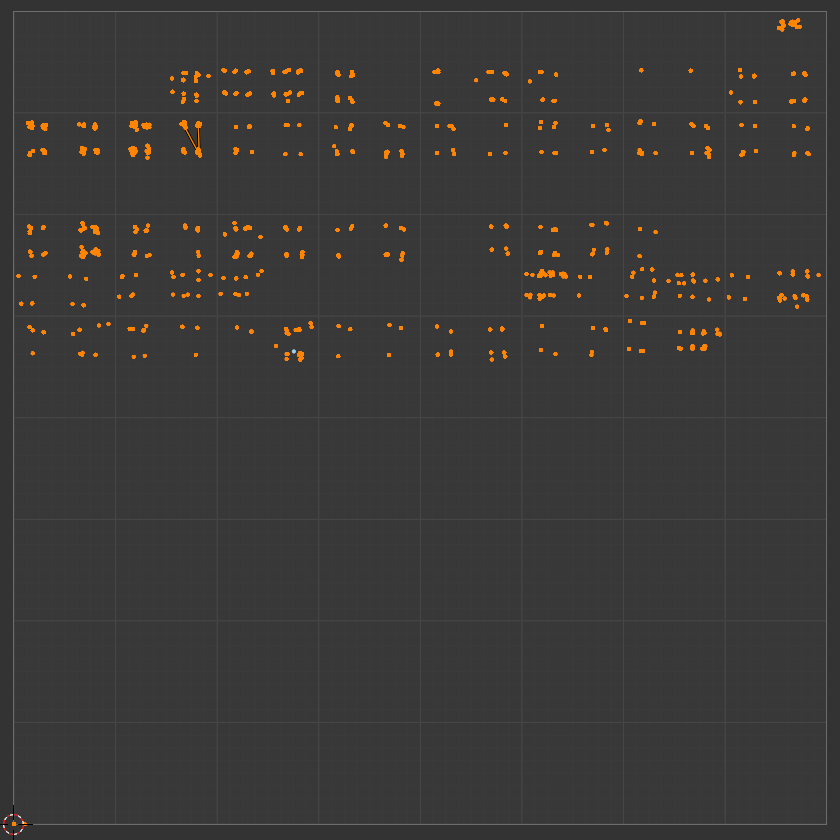 Boom, done. Easy trick.
That doesn't help a whole lot on its own, so let me help you understand it.
The basic idea of UV-mapping is to assign a vertex to a point in the texture map. Here, I'm using that interface for quickly assigning data to faces and vertices. I just select a zone I want to assign to a material, and just move the vertices at the correct place in the UV map. Doesn't even need any texture here!
To make this simpler, I cut my UV in regular intervals: a 16 by 16 grid, for a total of 256 IDs. It already is somewhat separated in Blender's interface so it's not very tricky to do so. And as a bonus, it is trivial to get it back in a shader!
Isn't this the same as having 256 materials? Pretty much. The "cleverness" of the trick is really the interface, and its ease of setup. What does it do better then?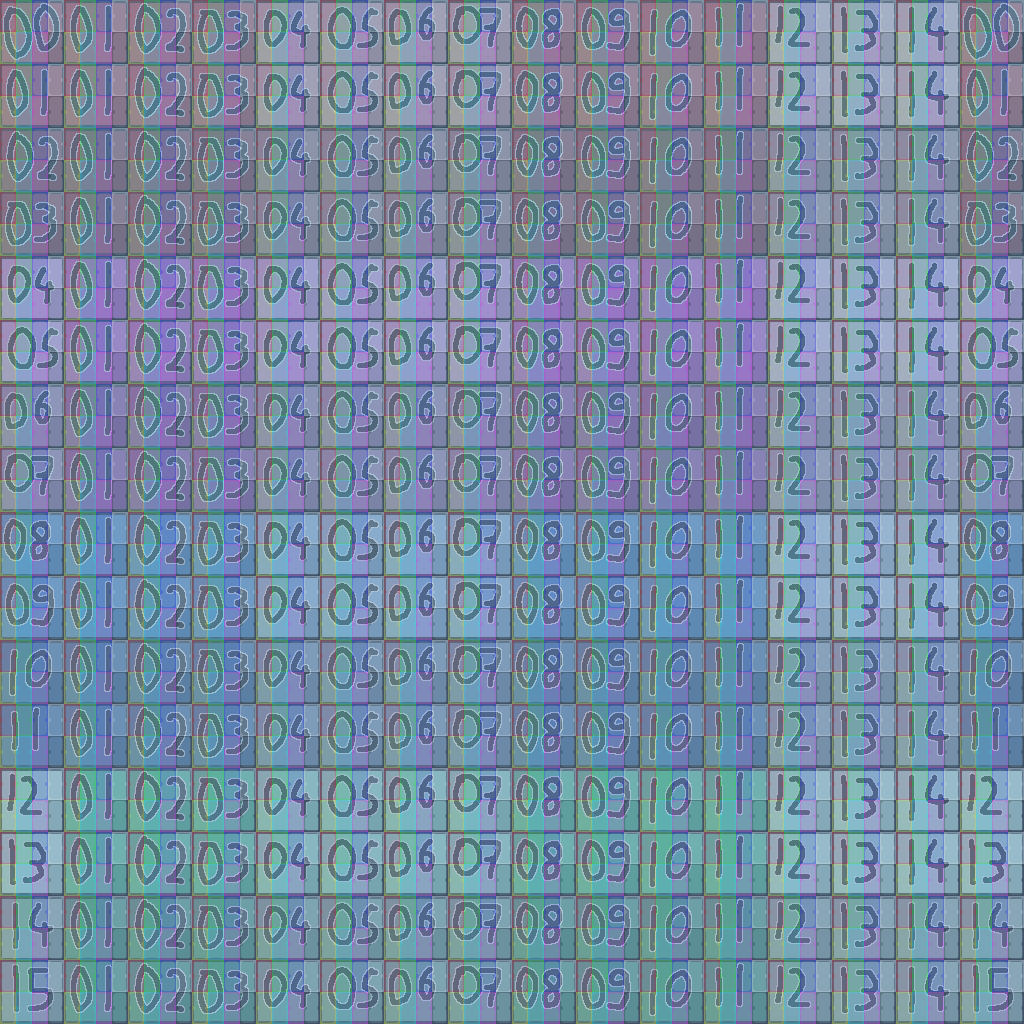 The guide texture I use for Kronian Titans. It has numbers to help find the correct zone quickly, and a visual indicator for the subparts. Feel free to use it!
Advantages
Assigning materials this way is a lot faster: That one is somewhat personal preference, but scrolling to the correct material on such long lists can be tricky. This allows a quicker way, that is a bit more visual, and also scales well.
You can derive IDs automatically from this: This is useful, because the rendering engine might not. The other method would be creating a material for each ID and putting it there, which is less than ideal.
You can add additional data from the same place: In a similar way, you can continue to subdivide the grid even further. I tend to do that to create "subparts": I cut each tile into 4 or more, which allows me to put an additional parameter in, like finer data for line detection, or lighting changes.
Maps really well to current pipelines: The fact that this doesn't require any new fancy bindings, just the UV, makes it really easy to implement. And in the other way, it's really easy to add a texture back and be okay with it.
Makes transferring to game engines really easy: If you used materials, you would be required to remake them when importing the asset into the game. Here, I have no need for that, everything goes on without any issue, which skips another long part at the same time.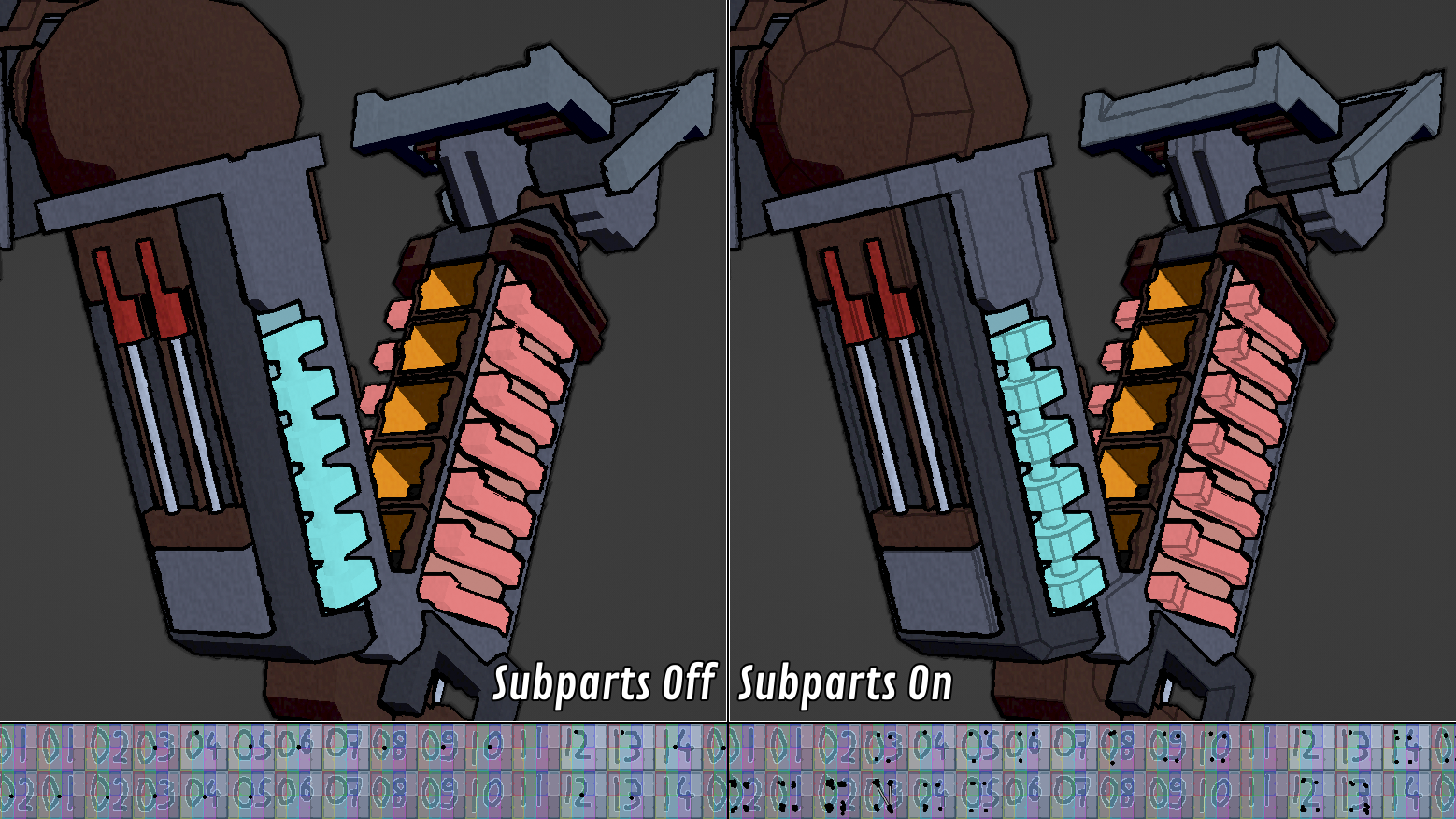 Having the subparts be this accessible can really help give some additional flair quickly to the models.
Disadvantages
Requires vertex detail: The flipside of not using textures is that you kinda forgo the mesogeometric detail that they allowed. It can be prohibitively expensive to add very small details, but it doesn't tend to be an issue for stylized rendering as you'll often have simplified designs and lower polycounts anyway.
Harder to alter: You still can't create data from nothing, so you'll need to store color somewhere. Either you use a simple texture you can modify with your favorite editor or Blender, or you make a more complex pipeline, which is what I did. I went through a few iterations, but with Malt I tend to add all my ID slots as world parameters, and let it rock.
Can spillover: This is the real issue. This method fundamentally puts a sort of limit on your materials and their storage, and you have to manage the mapping yourself, as if you don't you'll step on other objects. For me it's not a big deal as I work solo, but care should be taken when implementing this. (Funnily enough, fighting games actually do benefit from this structure).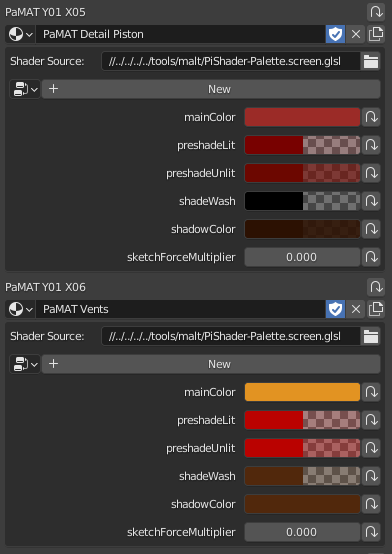 This is not ideal, especially if you start having even more of them, but at the moment it's the right mix of "somewhat easy to use" and "easy to implement".