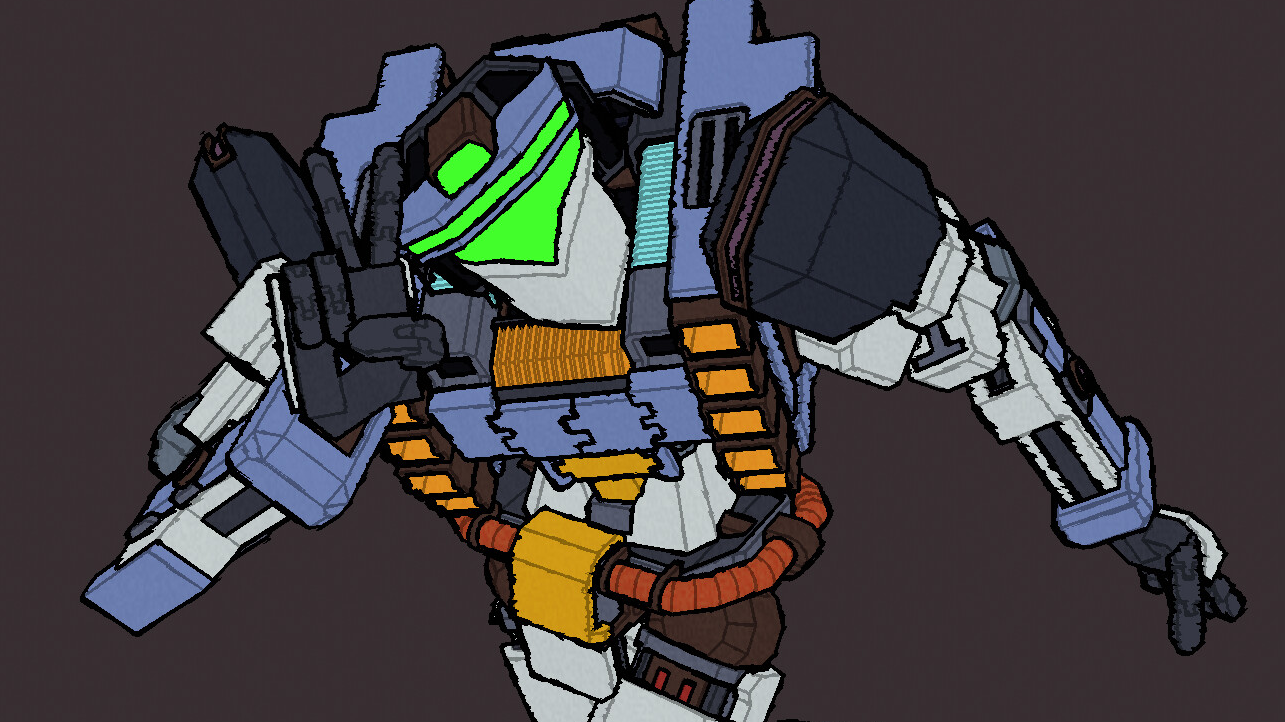 My own game, Kronian Titans uses more advanced SSE methods to give the lines more texture. I'm still not done iterating, but I like how it looks!
Next up is the current standard method: screen-space extraction (SSE). This family of methods boasts the quickest basic speed of all, while being able to detect a lot more line types, but are trickier to control and have some trouble with the control of the width. They are also a bit more complex, which can make them quite limited or tricky to implement without opening up the graphics engine.
The method is based on an algorithm known as convolution: for each pixel, you do a weighted sum of the surrounding pixels, and output the result. Which surrounding pixels and their weight is known as the kernel. This might be a bit tricky to understand if you don't already know it, so you can :expand this to get a quick explanation! Convolutions are pretty good at edge detection if using the right kernels, and even a simple Laplacian can get us pretty far.
The key to understanding this method however, is to realize that we don't do our convolution on the regular output, but on the internal buffers, sometimes even custom made for this pass! This is what allows us to get good precision and better results than, say, a :filter. We can thus make several convolutions on various buffers and combine them to get advanced results: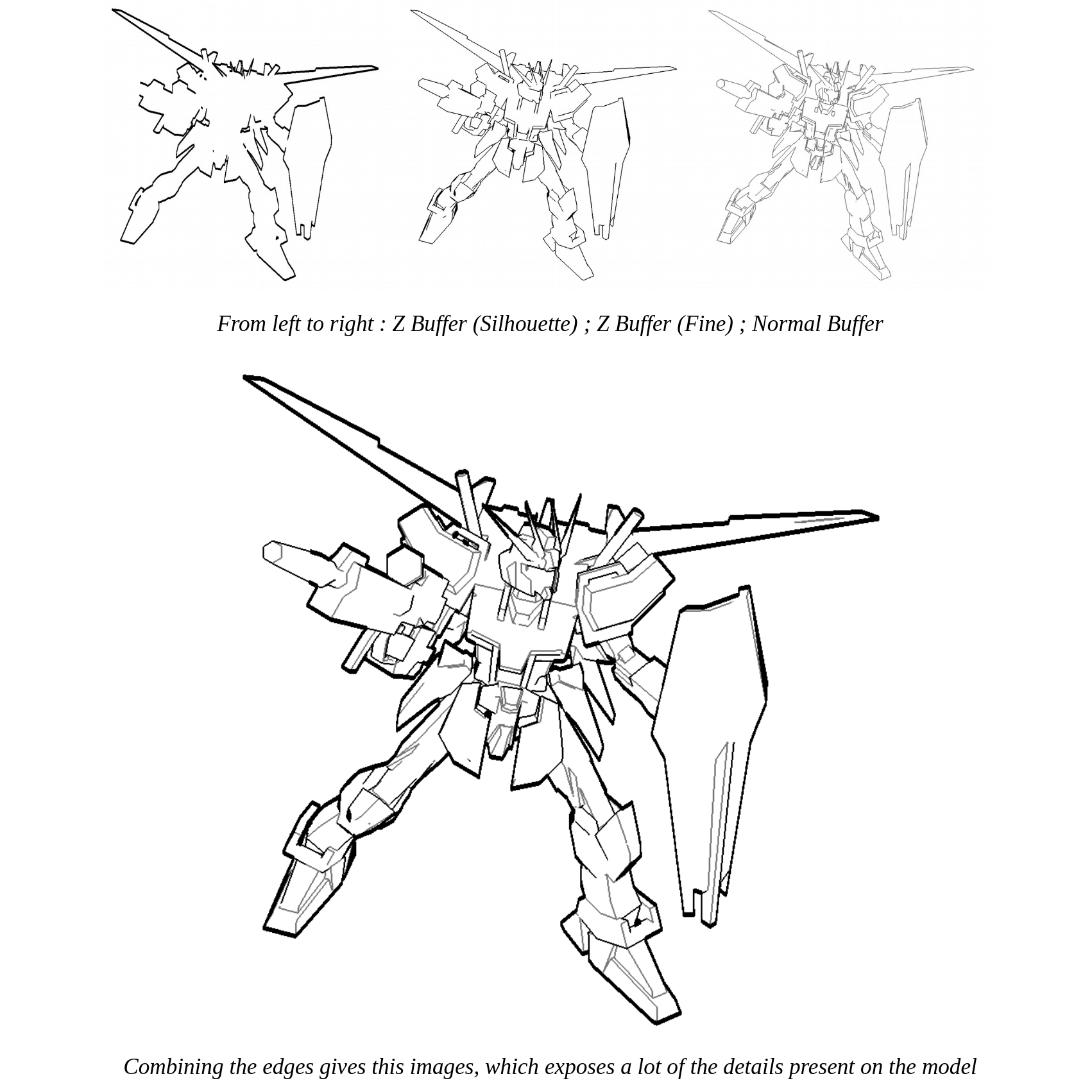 Here, by combining three convolutions together (silhouette, occlusion, and sharp edges) and styling them a bit differently, we can get a pretty nice linework for a very light computation cost. Fun fact: this is in fact among the first shaders I ever programmed, all the way back in 2016!
The fact that it's screenspace also helps the lines feel coherent at any scale, which you would need to compensate for with the previous hacky methods. Overall, this is a really good method that can also scale with your added demand for control and style, although each step makes the solution more complex. If you get out of this article remembering only one method, this is the one you'll want to use in most cases.
Let's now take a deeper dive into the subtleties and various aspects of the method.
:x What are filters?
A filter in this context is an image processing algorithm that runs on the rendered image, not internal buffers. The advantage is that they may be applied to images from any source. The disadvantage is that they have more trouble finding the parameters from the final image itself.
They tend to be a lot more involved and expensive, but also tend to provide a lot less control, working more like a black box that will output the stylized image. This is the main reason why I think they are ill-suited for games. They also tend to not really keep a coherent stylization from one frame to the next, although that depends on the algorithm.
Similarly, you may have seen a lot of machine learning methods floating around, and while there are many ways to apply it to rendering, you might be thinking of those automatic stylization ones or style-transfer using GANs. While cool, they tend to present the same problems of regular filters, but turned up to 11, so I wouldn't recommend that direction either.
:x Convolution Example: Blurring
Blurring is a somewhat simple operation to understand: you want to average the neighboring pixels. A naive algorithm will probably have a loop accessing all relevant pixels, like this:
def

 

BlurPixel

(img, x, y, blurSize=

1

):
    blurredColor = Color()
    

for

 j 

in

 range(-blurSize, blurSize+

1

):
        

for

 i 

in

 range(-blurSize, blurSize+

1

):
            blurredColor += img.GetPixel(x+i, y+j)
    blurredColor /= pow(blurSize*

2

+

1

, 

2

)
    

return

 blurredColor
This is functionally identical to what a convolution would do, with a 3x3 kernel, where every value is 1/9, as you can see on this schema: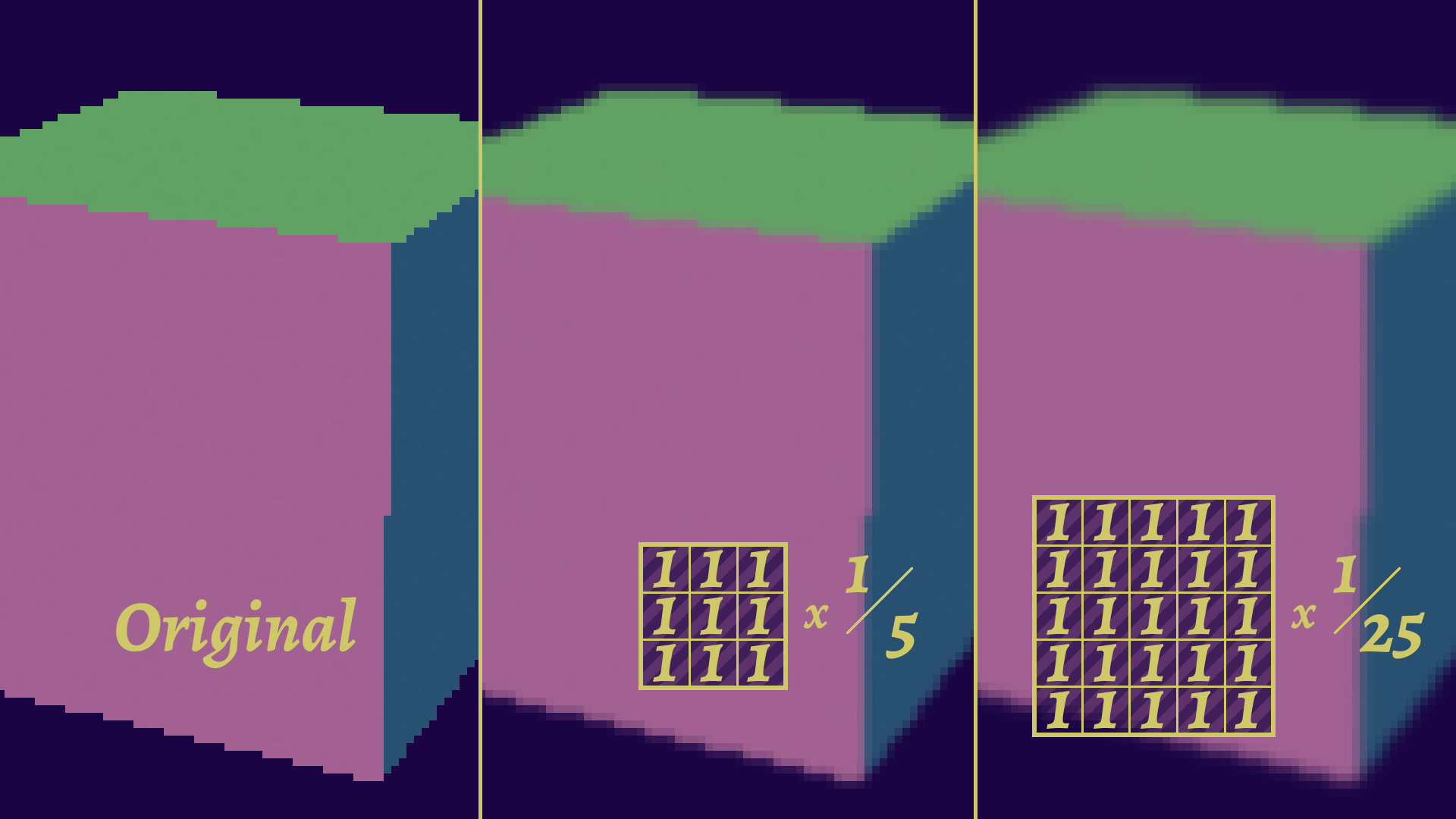 The advantage here is that you can adapt the weights in an easier way. And now it's math so you can do more math on them!
There are a lot of applications (like neural networks) and subtleties to convolutions, as they are also good at edge detection. Doesn't that sound useful for our use case ?
:x Convolution Example: Occlusion Contours
A convolution is basically a mathematic way of comparing neighboring pixels. You have a small pattern called the kernel, centered on the pixel you want to compute, where each pixel has a defined weight. You then use those weights and pixel values for a weighted sum, and then use the result as you wish!
Let's use an example with a Laplacian Kernel, which is a simple way to find the differences between neighboring pixels: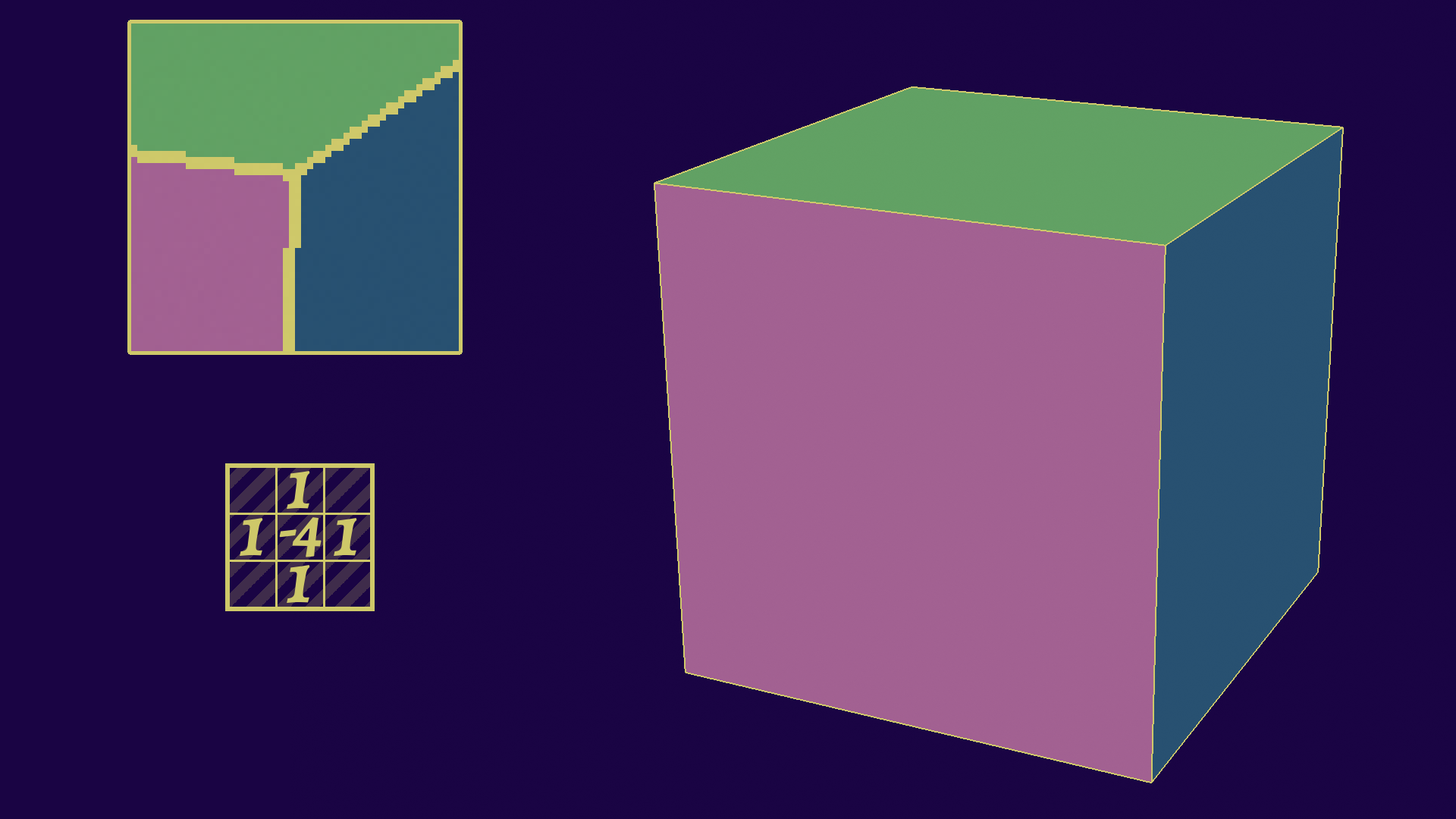 A 3x3 Laplacian kernel is pretty simple: you make a cross of values 1, except for the middle which is -4.
This is equivalent to taking the center pixel, multiplying it by -4, and then adding the 4 directly neighboring pixels (up, left, down, right). What the formula does, is basically compare the center pixel to the average of its neighbors: if it is close to zero, it means they are nearly identical.
We can use that together with a threshold to find discontinuities, areas where the value changes quickly, which is exactly what we need to detect edges as we will see in a bit! If you want a second example about convolutions in general, you can :expand this section.
How to detect lines depending on their type?
I touched a bit quickly upon that, but convolution is only one part of the answer, the other being the internal buffers we use. The answer will depend once again on the type of line we want to find, so let's take a look through them once again.
Occlusion Contours: Considering they are depth discontinuities, we can estimate this from the depth buffer. We look at the central pixel and the neighboring ones, and if the difference is big enough we deduce that there must be two different objects (or at least parts) in front of one another, and select that pixel as part of the contour.
Sharp Edges: These are surface discontinuities, which means we want to do that with the normal buffer, as this will show us the surface directions.
Material Separation: Once again pretty similar, but this time the buffer we will need to use will be the material ID buffer, which is a bit less standard and more implementation dependent.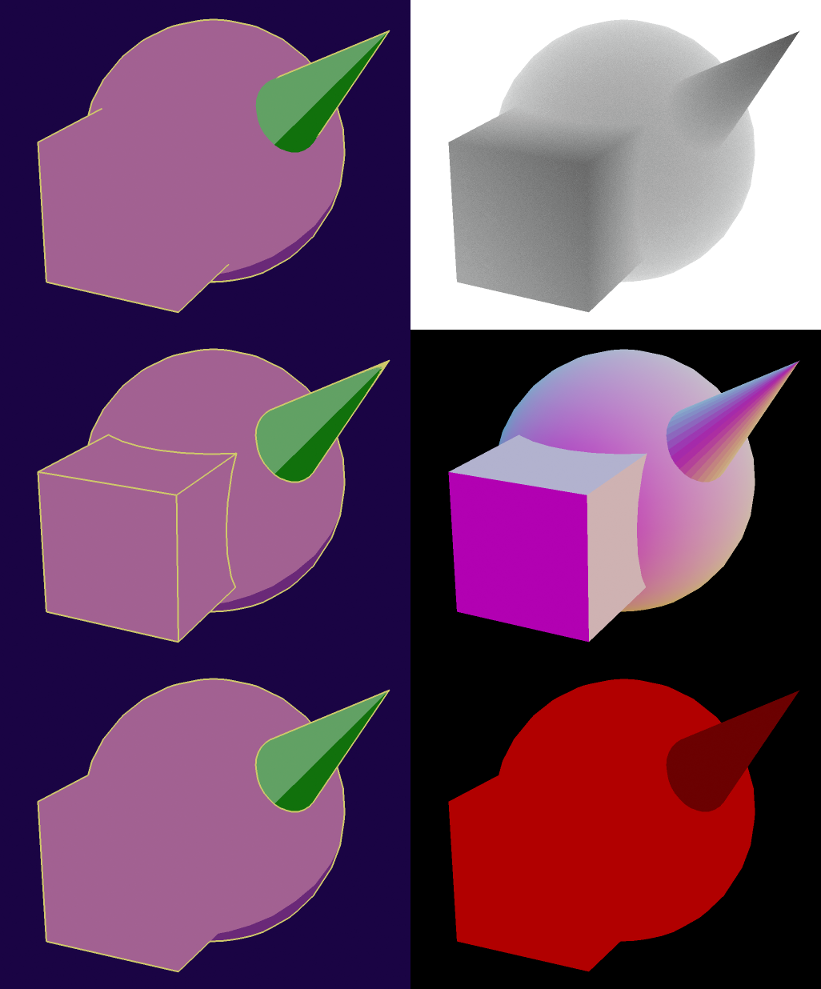 It's a lot simpler than it reads if you watch it visually. Combine results for a complete linework! In order: depth, normals, material.
So that's our easy lines out of the way. Let's continue with some trickier ones.
Silhouette Lines: This can be done in a few ways. A simple but flawed one would be to use the depth buffer again, with a higher threshold. This kind of works, but won't strictly find the silhouette in all situations, with both false negatives and false positives. Another way could be the alpha channel, but this requires that your object is rendered separately (so more useful for pipelines). The better method would be similar to material separation lines, as it would be an object ID buffer. This would allow us to cleanly separate objects, but might not always be accessible by default.
Arbitrary Lines: Once again, there are a few ways to do so. One way would be to rely on the same technique of using some sort of ID buffer once again, more specifically a custom ID buffer. This would be a simple method, and may be combined later with width control to create independent lines, which is what Tales of Wedding Rings VR did. Another could be rendering those lines directly in the buffer, but that may require a more advanced pipeline control. This is the kind of method I use for Kronian Titans and Molten Winds.
Shadow Lines: This can be done through a specialized buffer, which we may call the shadowing mask. It is usually an intermediate result of a computation, but by exporting it like this you may detect those straightforwardly.
Other Lines: The method may be extended further again, by using some other buffers that may be computed, but can be less pertinent depending on what you want to do. One classic example is for instance outputting the depth of only the characters to a separate buffer, then compare that buffer to the regular depth buffer. If the character is further away (and thus hidden), you may trace a silhouette around it to see it through walls!
The method can detect most types of lines, especially mesh intersection (through object ID buffers) and shadow lines, which are very tricky geometrically. It might however have some difficulties with higher order lines (which would be expensive to compute).
This may be pushed further through the use of custom buffers and shaders, depending on the type of data you are manipulating. This can either be used to optimize your detection, by packing all the needed values inside of one buffer, or by outputting specialized values (like the shadowing mask). This is in fact what Kronian Titans does, by combining its three ID-based detections into a single buffer.
In this part of the article, as I am still only talking about extraction, I am styling all the contours the same for simplicity. Know however, that as you find each contour separately, you can also flag them separately, and thus style them separately. You just have to include that functionality when implementing your shaders.
Improving the precision
Now, that's the base idea, but we might still get a few artifacts. This section is about how to improve our results a bit. This is not always applicable to all line types.
Glancing Angles
The first order of business is going to be improving the threshold, which is very useful for contour lines. Indeed, since we're using a flat threshold, we are just looking for an absolute difference in distance from the camera. This usually works, but can break down at glancing angles, and you may find false positives. However, increasing the threshold wouldn't work either, because it might miss objects that are close together.
Here, it's easier to see in an image: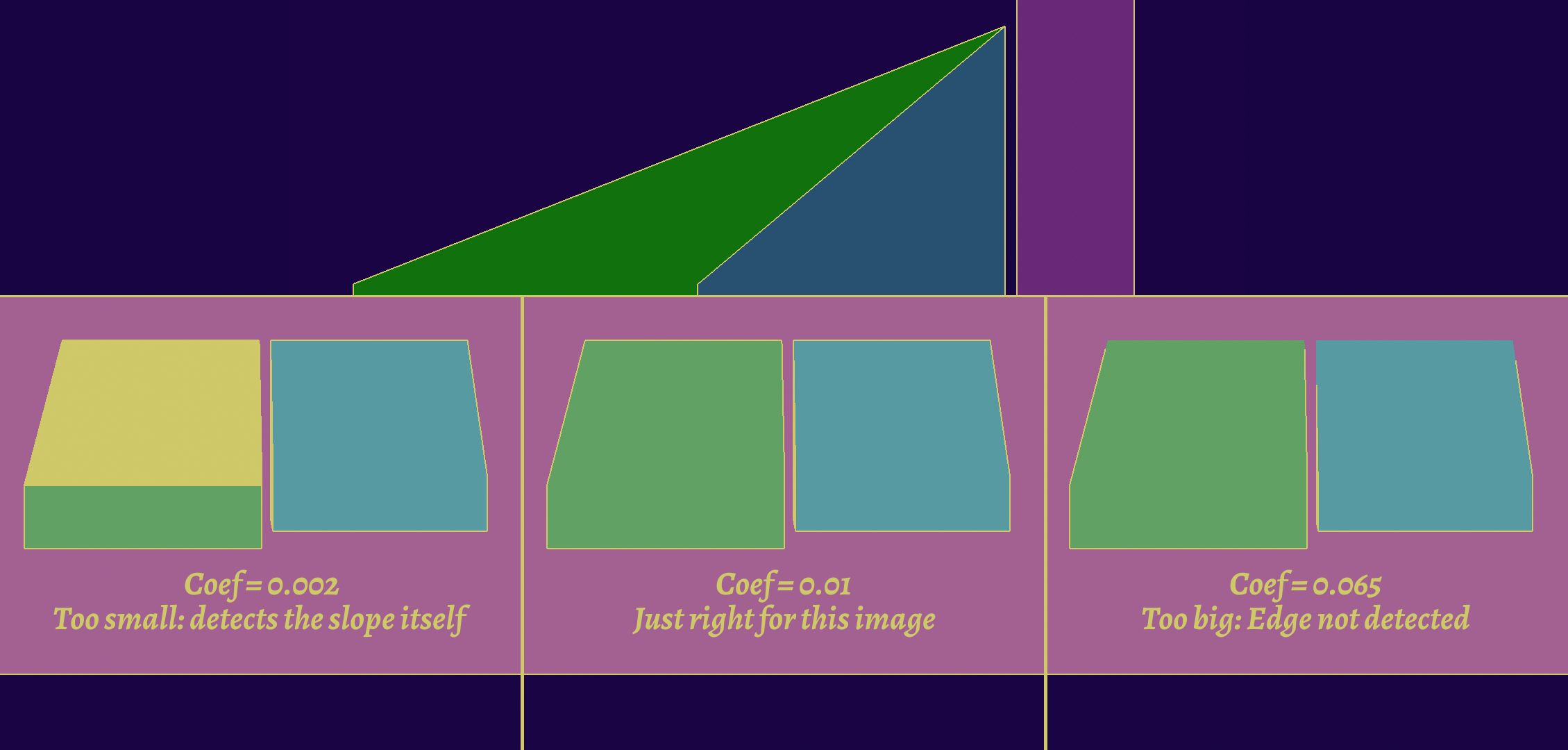 Here it is shown with an angled plane, but it can happen on almost any model. This is hard to fix directly because it is very dependant on the viewpoint.
One solution would be to adjust the threshold depending on the slope of the surface, which we can know by taking the normal at the central pixel. The exact formula depends on implementation.
Unfortunately, this adjustment might make us miss lines we would otherwise find. It's a fundamental limitation of screen-space extraction algorithms, as we may only rely on information we have on screen. The main way to improve this would be to use :several detection methods at the same time, but this might bring some limitations in the stylization part.
:x Several Detection Methods
As it can be common, sometimes the best solution isn't an algorithm that can handle everything, but a combination of specialized algorithms.
In this case here, adding more detection will reduce the conditions for this to happen. So for instance, detecting normal discontinuities will find the previous example, but not faces that are parallel. Another way would be to use object IDs, meaning as long as it's two different objects, it will be detected.
This is not to say that they don't have failure cases, but by combining them the remaining failure case is really hard to come by: you need that the two faces are parallel AND very close AND part of the same object for the line to not be detected, meaning the artifacts are going to be very few.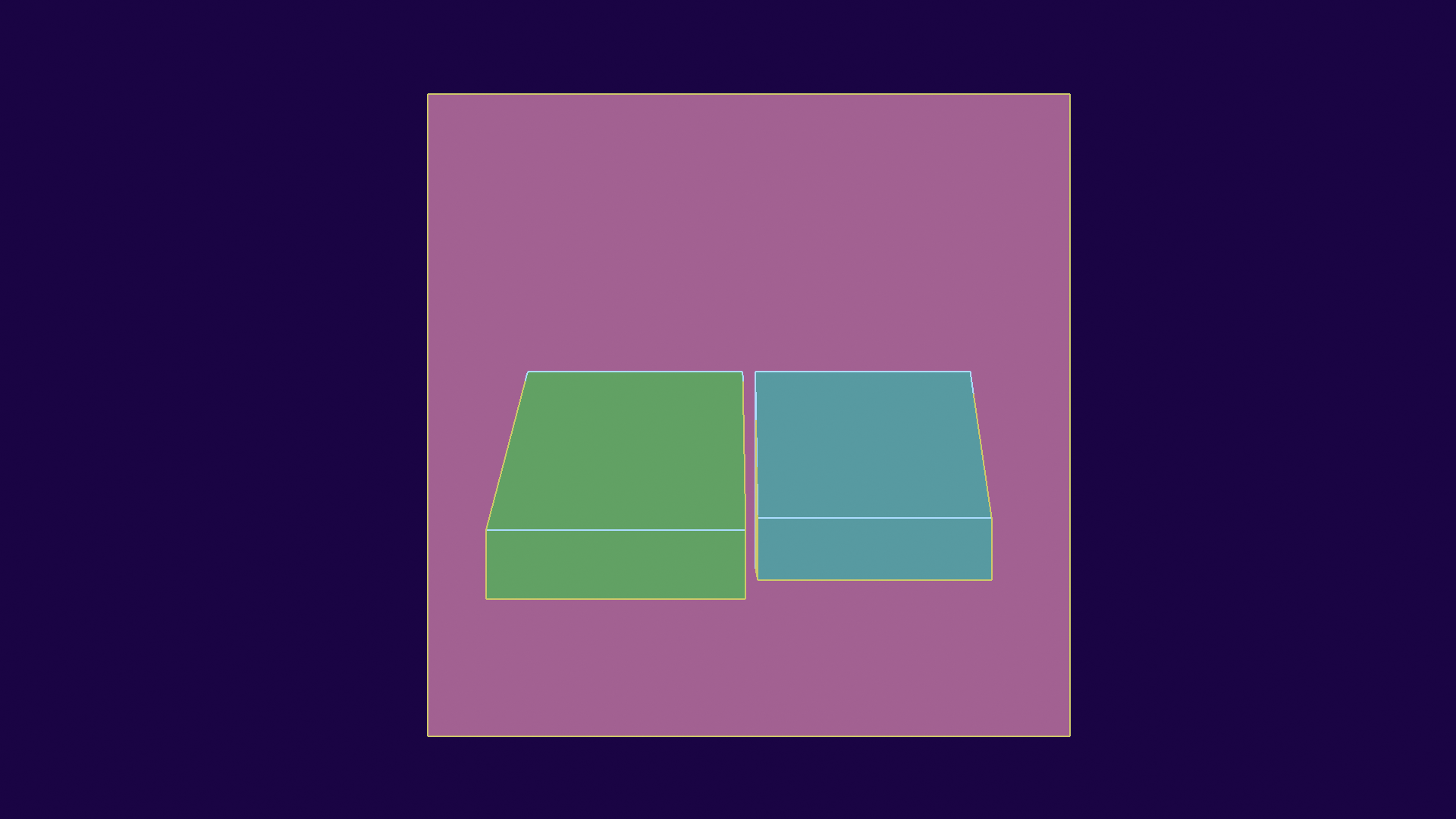 Here we have an inappropriate depth threshold (too high, doesn't detect all lines), but it is compensated by the sharp edge detector. As you can see, this can still result in artifacts depending on the exact style you use.
Other Kernels
Another way to improve detection is to use different kernels. Right now, we've been using a simple Laplacian kernel.
The classic has been to use Sobel kernels for edge detection. It's actually two kernels, one vertical and one horizontal, that you combine the results of. Compared to Laplacians, this catches some edges better on the diagonals, but also slightly more expensive, as it requires 9 texture accesses compared to the 5 of a simple Laplacian Kernel. The dual kernel nature also means you can use only one of the two directions to only get vertical or horizontal edges for instance.
An addition to that has been Scharr kernels, which are optimized Sobel kernels that handle diagonals better and are tailored to the hardware limits. For instance, where a regular Sobel kernel will use the coefficients 1, 2, and 1, the Scharr kernel for 8 bit integers (incidentally, a color channel in most images) are 47, 162, and 47.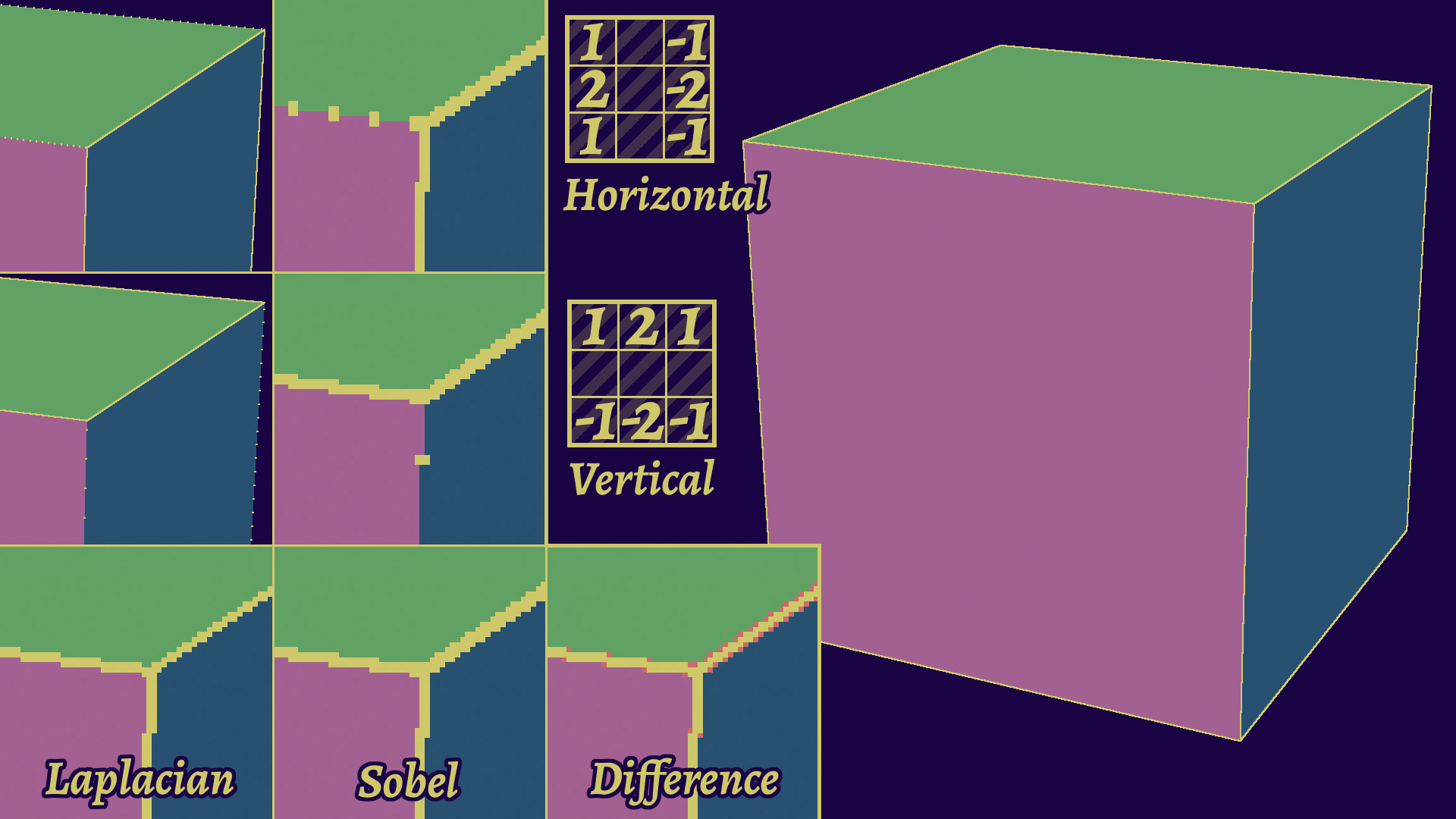 3x3 Sobel-kernel based line detection and comparison with a Laplacian kernel. Sobel is the combination of a vertical and horizontal convolution, and is a bit more robust to diagonals. Scharr would achieve the same result in this simple example.
There are, of course, other edge detection methods, which are outside the scope of this article. Some examples include the Canny edge detector, or the Difference of Gaussians operator. They tend to deliver better results for photographs, but can be a bit (or very) slow, and trickier to pass parameters with, so I prefer sticking to the simpler ones.
Something to also note here is that I've only presented 3x3 kernels, which is in my opinion sufficient. But, if you want to go for bigger kernels, like I don't suggest you do in the next part, you can find more suitable coefficients online.
The question of width
At this point, we have a way to detect lines, but the issue is that our lines are all the same size of one or two pixels (depending on if you're using absolute value or not). This is problematic because it limits the amount of styles we can express and our ability to remove specific ones. This is actually two problems, one of them is actual control which we will see in the next section, and the other is enabling it, which can be tricky in screen-space extraction.
We can now detect lines, however an issue remains in that our lines are all the same size of one or two pixels! This is problematic, because it limits the amount of styles we can express and our ability to control it. In order to unlock that, we will have to start by being able to have thicker lines.
One might get the idea to start using bigger kernels to detect lines from further away. This actually works, and you have two ways to do it, but each have flaws.
If you are using a full bigger kernel, your rendering is going to slow to a crawl as the number of samples increases sharply (it's O(n²) after all) with each pixel of width you want to add, making even medium-thin outlines hard to fit in a real-time game.
If you are dilating your kernel, it will reach further, but you'll get a bias and loss of precision as you go further. You may also miss lines locally and thus have them displaced. This can be fixed by adding more samples, but you start getting closer to the first method.
There are a few additional tricks to these methods including rotating the kernels, but bigger kernels naturally tend to have some noise in line detection, as you may detect features that aren't local to your part, which might translate into artifacts.
Dilatation
In order to avoid these problems, we can use dilatation algorithms, which expand a line using a kernel. The basic idea is just that, they'll check the whole kernel and if they find any pixel of the line, they'll expand.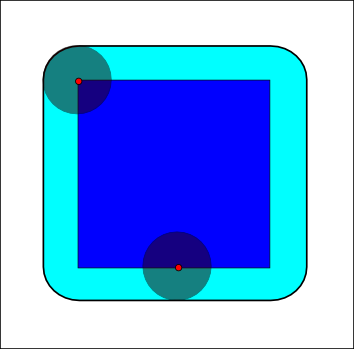 "The dilation of a dark-blue square by a disk, resulting in the light-blue square with rounded corners." - Wikipedia
This is naturally a lot more precise, as you keep the detection local and then make those lines bigger, but a naive implementation will be just as long as a bigger kernel. Therefore, we will prefer using several dilatations one after the other, which can be often implemented using ping-pong buffers.
While you could start thinking about what is the most optimal number of passes and kernel size for a given width, I'll cut to the chase, since we can solve that problem with the Jump Flood Algorithm. The basic idea here is to sample from further away at first, and then halve the distance each time. This allows us to dilate more with each step, making the algorithm log2(n), which in layman's terms means "very very fast". If you want to know more about the implementation of such an algorithm, this article by Ben Golus will interest you.
At this point however, you might have noticed that we still widen all lines homogeneously. This isn't enough for the control we want to achieve, therefore we will need to compute what's called the SDF (Signed Distance Field). To simplify, this is about computing the distance to our line instead of a flat "our line is here", which then means we can adjust it or do cool effects.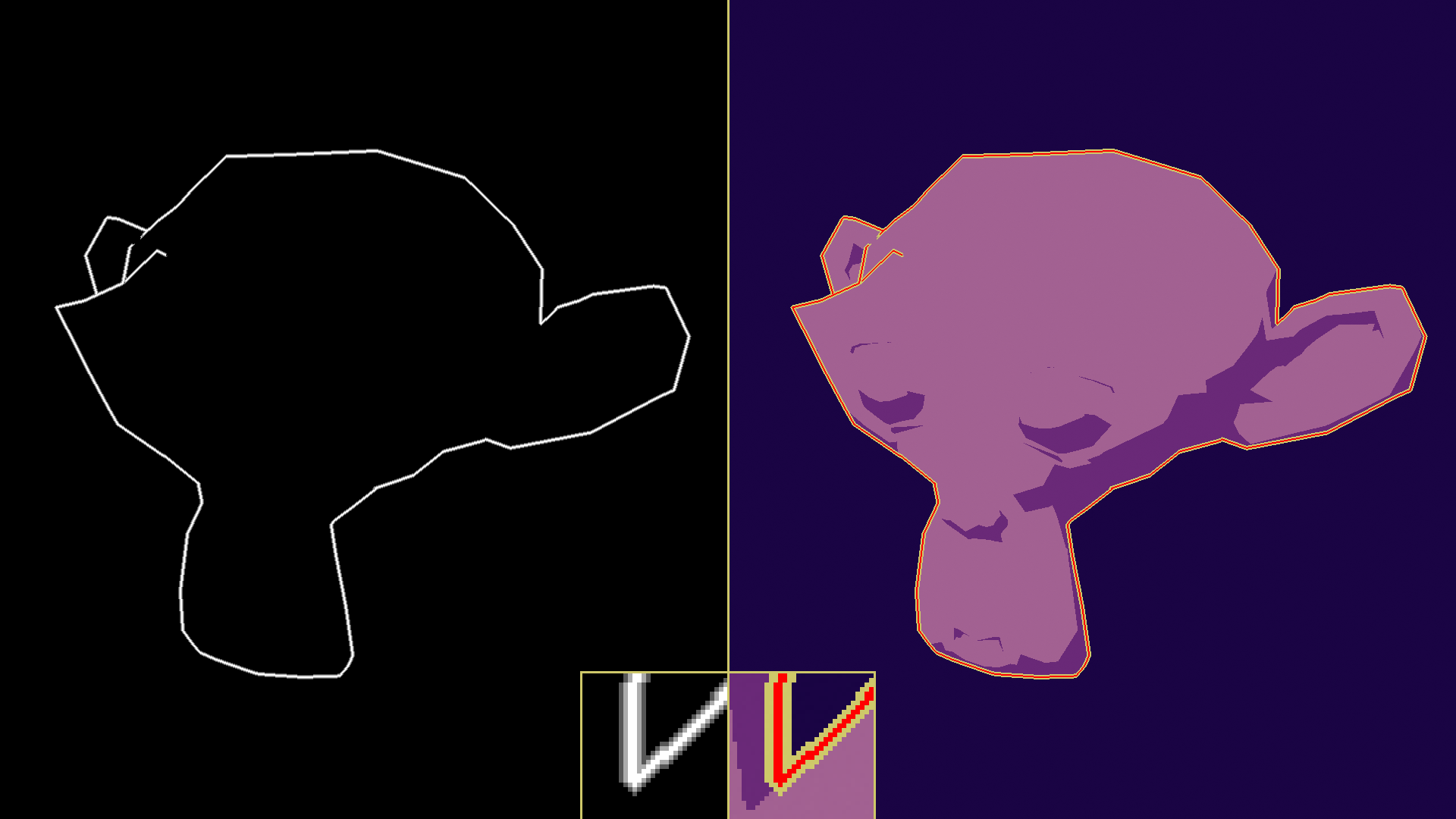 The SDF (on the left) allows us to control the line width and style, as is shown on the right (simple two color line).
Thankfully, computing the SDF is very easy with line dilatation methods, so we don't have to change anything really for those. :The methods using the kernel technically can, but it's kinda hacky.
There is a small point remaining, which is about if the base line is one or two pixels wide, but this will be explained better in the next section.
:x Kronian Titans SDF Line Detection
To illustrate, this is what I'm using in Kronian Titans. It IS slower and less precise, but it allows computing the SDF in a single pass, which is pretty useful in Godot 3's limited renderer.
The idea here is somewhat simple: you sample in a pattern, but associate each sample with a distance. Then, you take the minimum distance of all the samples that detect a line.
This method is very affected by the pattern choice, as more samples is more expensive, while less samples will introduce bias and provide less precision. Ideally, you want a rotationally robust kernel, or even rotate it to limit that bias. I would also force the closest neighbors of the pixel to be checked each time, to ensure you don't miss lines. Kronian Titans uses a variation of the 8 rooks pattern I did manually.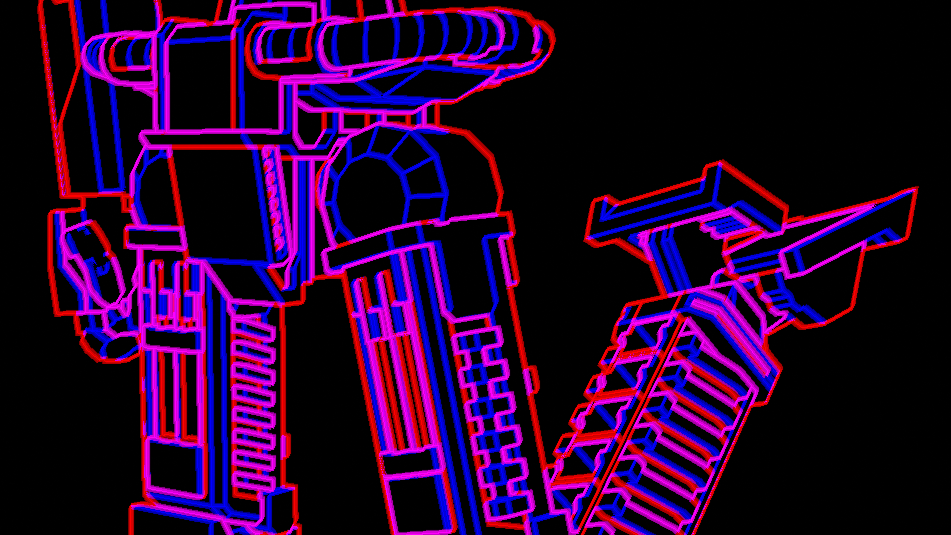 The line detection buffer of Kronian Titans. You can see the bias there, but hey it works in real time and doesn't need to open up the renderer to do, which is good enough for now.
Best overall choice for Games
Kinda spoiling the article hehe, but yeah I believe that at the moment, Screen-Space Extraction algorithms are the best choice for games. For offline rendering, it's a bit debatable with the next method.
In my opinion, it's a bit hard to argue against, really:
They can find pretty much any line type that you want.
They are the fastest.
They can do a fair amount of stylization options.
Their main flaws, like limited width, can be corrected with some elbow grease. (Okay, not always easy, but doable in most cases)
Hacks' only advantage here is that they are easier to implement, which may be unfortunately a breaking factor for your team, and that's okay. It's a bit unreasonable to ask to open up the renderer and code a ping-pong dilatation algorithm inside a complex game engine, so I hope this becomes easier as time goes on. We will see how to implement all that in part 3.
SSE algorithms have however one fatal flaw: stylization can be pretty hard or limited! This is especially true for a simple common case, which is pretty hard with SSE: lines that change width as they go on! This is where the next family can help us.